News
---
TROPISMES BOOKSHOP_BRUSSELS_19/05/2022_7 pm
"Avec Pier Pao­lo Paso­li­ni", René de Cec­cat­ty and Chan­tal Vey
11, Gale­rie des Princes_1000 Brussels
You can book here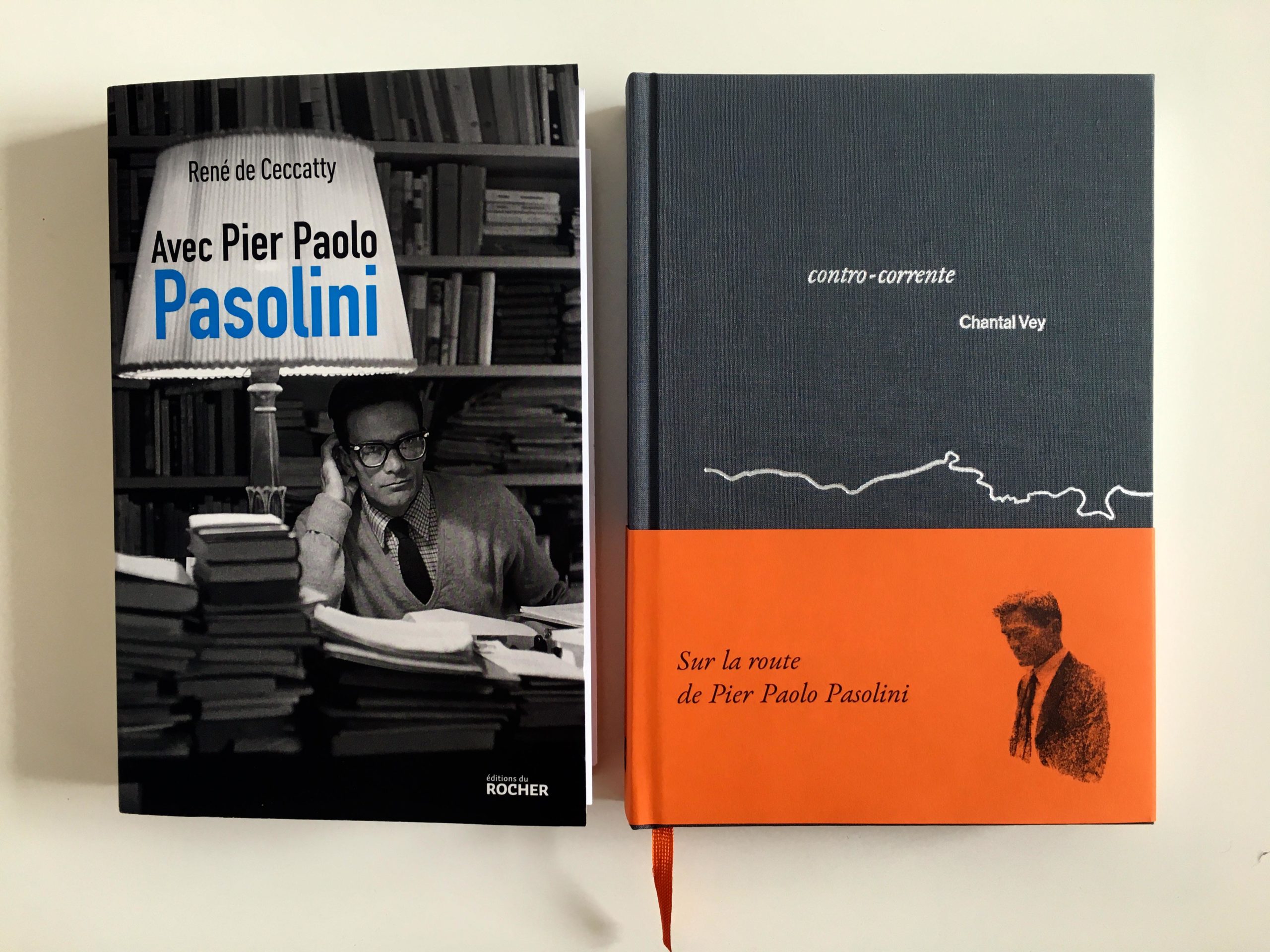 ---
GALLERY DOUBLEROOM_Trieste_"Io so…" Omag­gio al "roman­zo delle stra­gi" di Pier Pao­lo Paso­li­ni :
13 – 14/05/2022_6 pm
via cano­va, 9 _ 34129 TRIESTE
Exhi­bi­tion until 24/06/2022
For more infor­ma­tions click here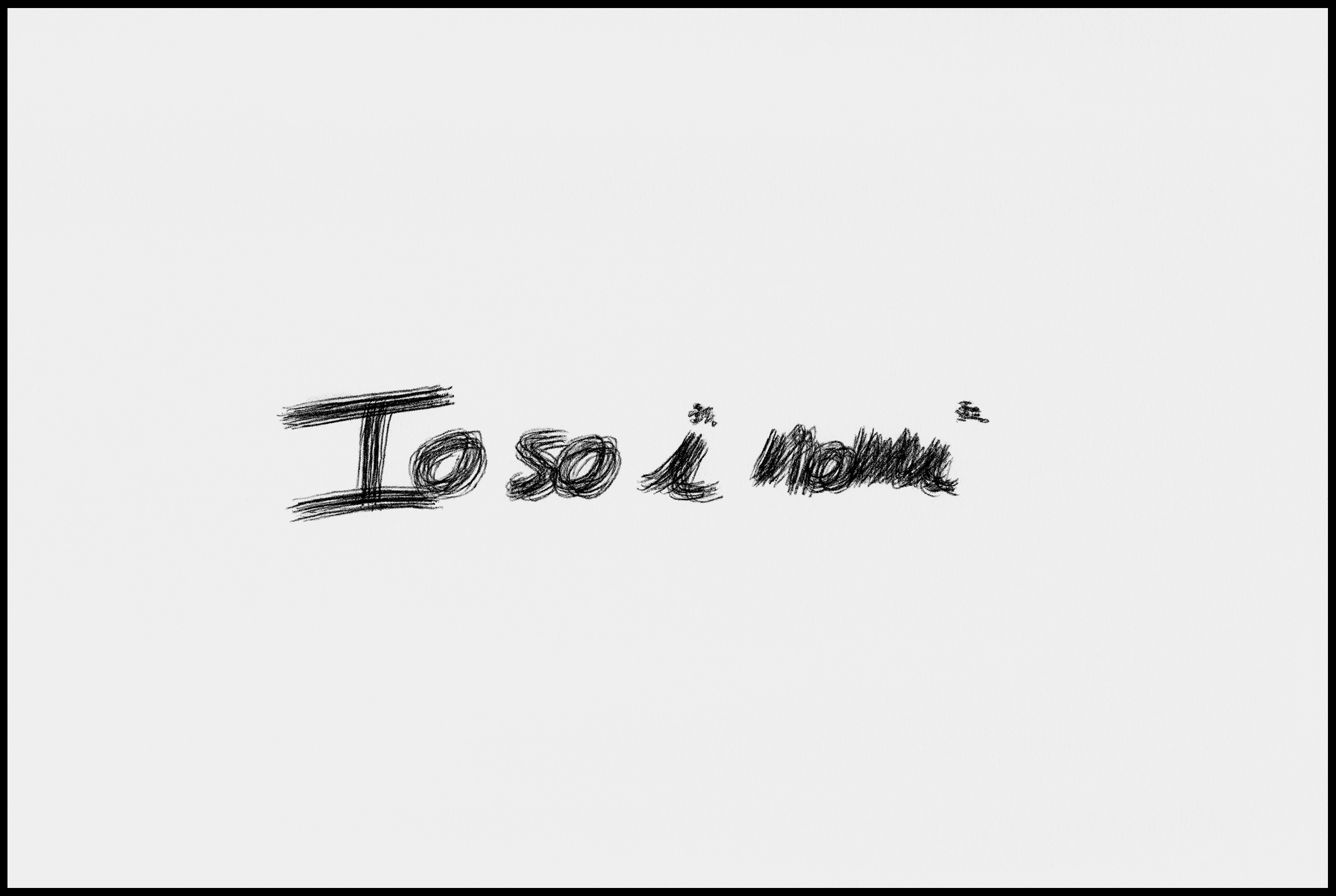 © Chan­tal Vey, Omag­gio al roman­zo delle stra­gi di Pier Pao­lo Pasolini_n°1A, Roma, 2019
---
AN ARTICLE © SABYL GHOUSSOUB in BLIND MAGAZINE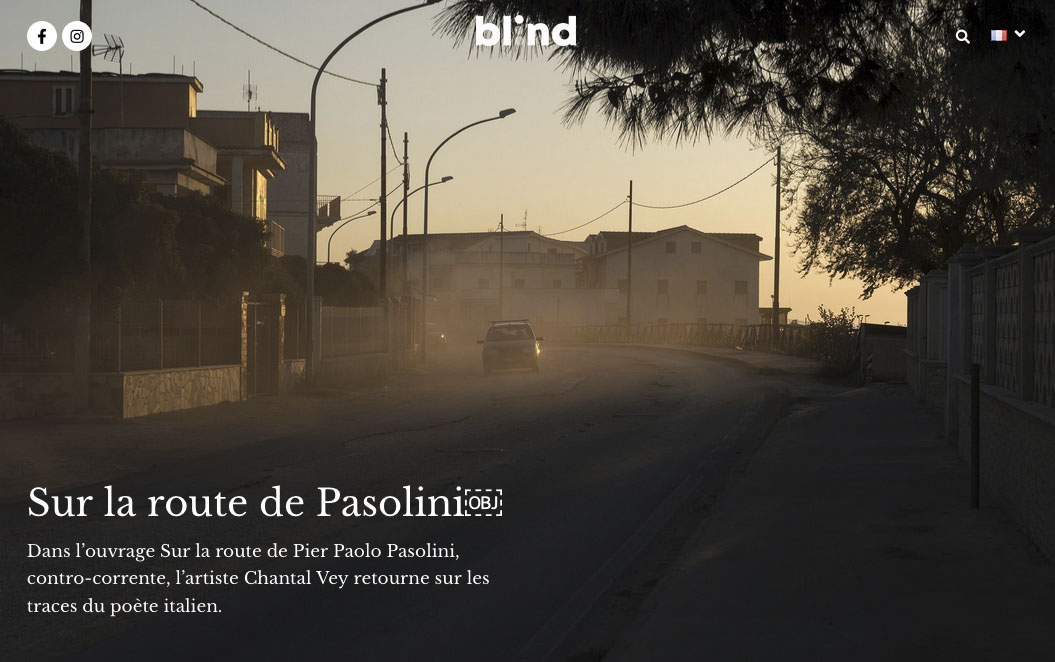 ---
INTERVIEW © FLUXNEW :
Pier Pao­lo Paso­li­ni. Inter­view de Chan­tal Vey sur son expo­si­tion à la Cine­ma­tek, Brus­sels, 15/04/2022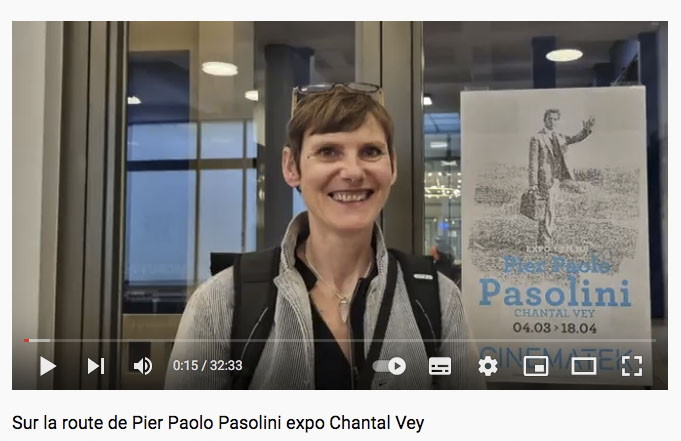 ---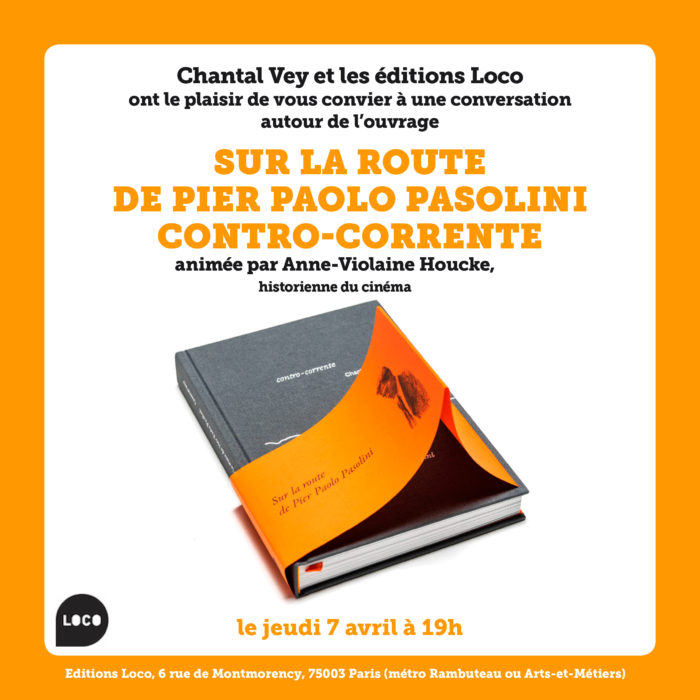 ---
BRUZZ INTERNATIONAL :
REPORTAGE BY M.MC MAHON, S. LAPASINI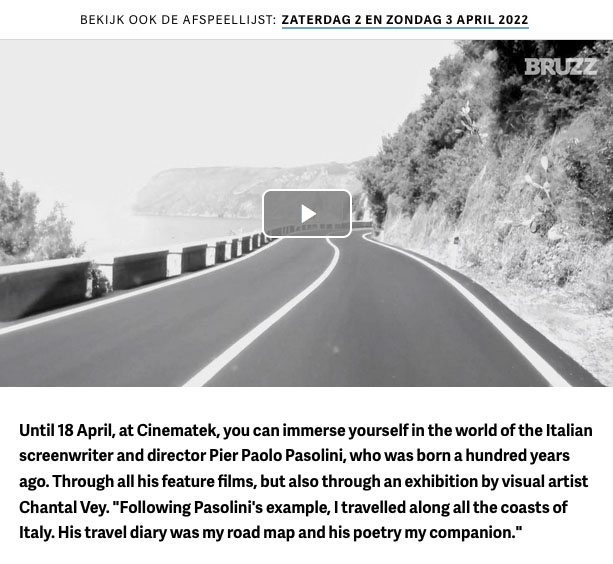 ---
AN ARTICLE © AMAURY DA CUNHA
in "Le Monde" of 17 March 2022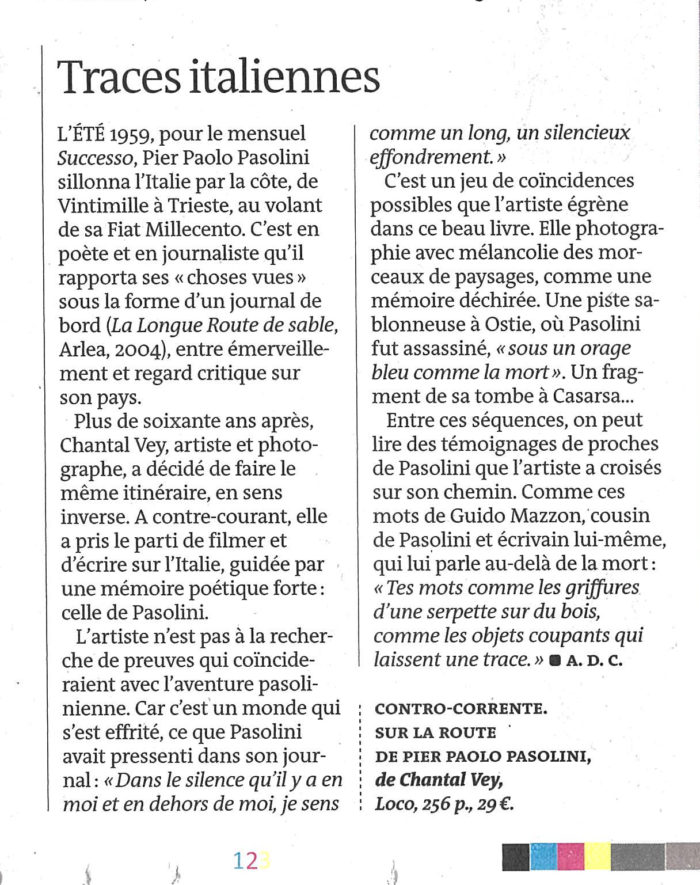 ---
NEW ARTICLE ON LINE © FABIEN RIBERY
Pier Pao­lo Paso­li­ni, une des­ti­ner­rance, par Chan­tal Vey, photographe

© Chan­tal Vey, P1020291, Rodi Gar­ga­no, cc3, 2017
---
CINEMATEK_Brussels_contro-cor­rente_­Sur la route de Pier Pao­lo Paso­li­ni by Chan­tal Vey
street Baron Hor­ta 9_1000 Brussels
Exhi­bi­tion and retros­pec­tive of Paso­li­ni's films in honour of his cen­te­na­ry : 05/03 to 18/04/2022
Ope­ning : 04/03/2022
5:30 pm Pre­sen­ta­tion to the public of the exhi­bi­tion and the book publi­shed by Loco edi­tions
7 pm Pro­jec­tion Comi­zi d'a­more, 1965, docu­men­ta­ry film of Paso­li­ni about sexua­li­ty in Italy,
fol­lo­wed by a dis­cus­sion with the cura­tor Maëlle Dela­planche (in French)
For more infor­ma­tions click here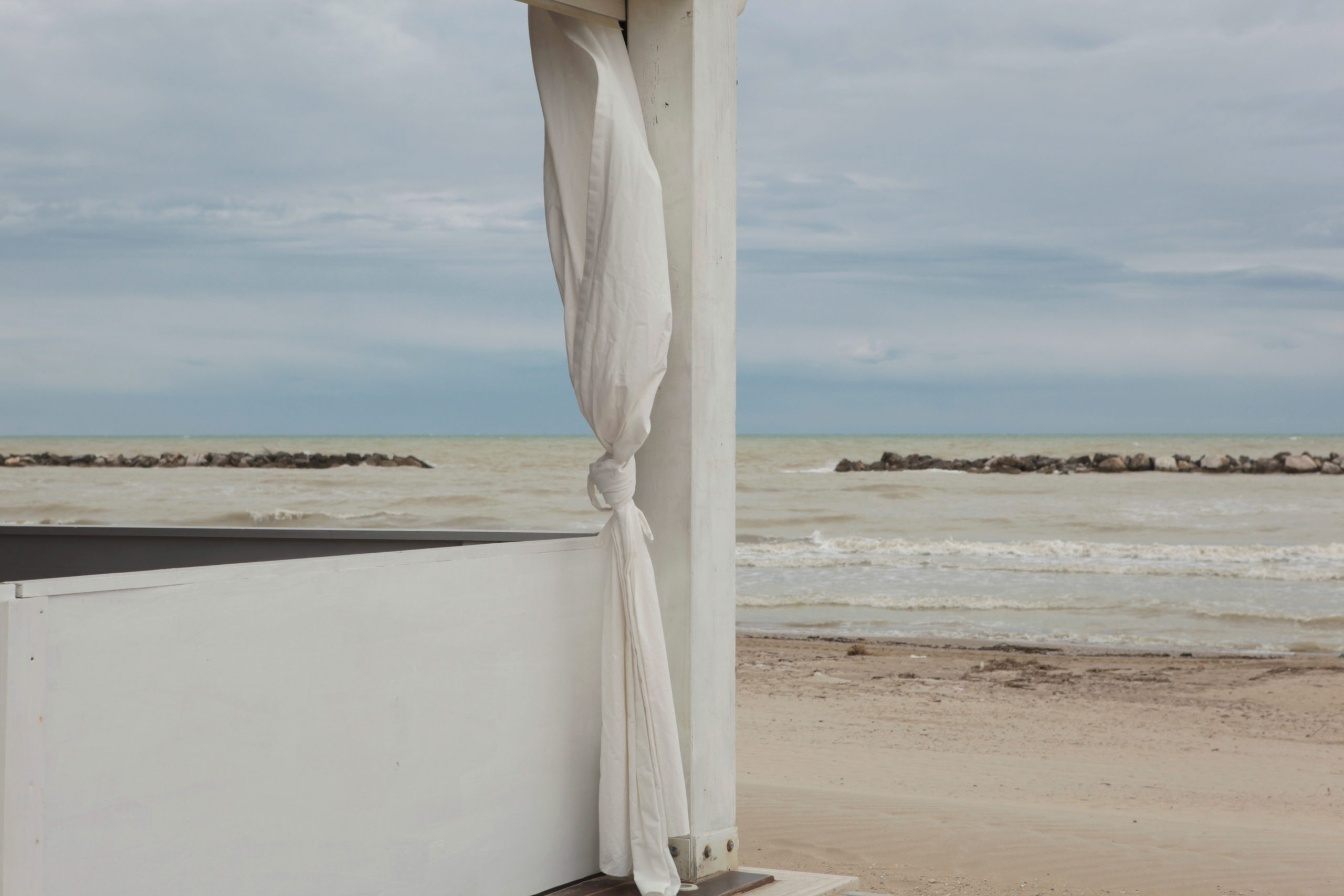 © Chan­tal Vey, IMG_0638, San­Be­ne­det­to, cc1, 2014
---
PUBLICATION_contro-cor­rente_­Sur la route de Pier Pao­lo Paso­li­ni_Loco editions_Paris_2022
bilin­gual French/Italian, 17 x 24 cm, 256 pages, 100 colour repro­duc­tions, cloth bound with sil­ver stamping
For more infor­ma­tions click here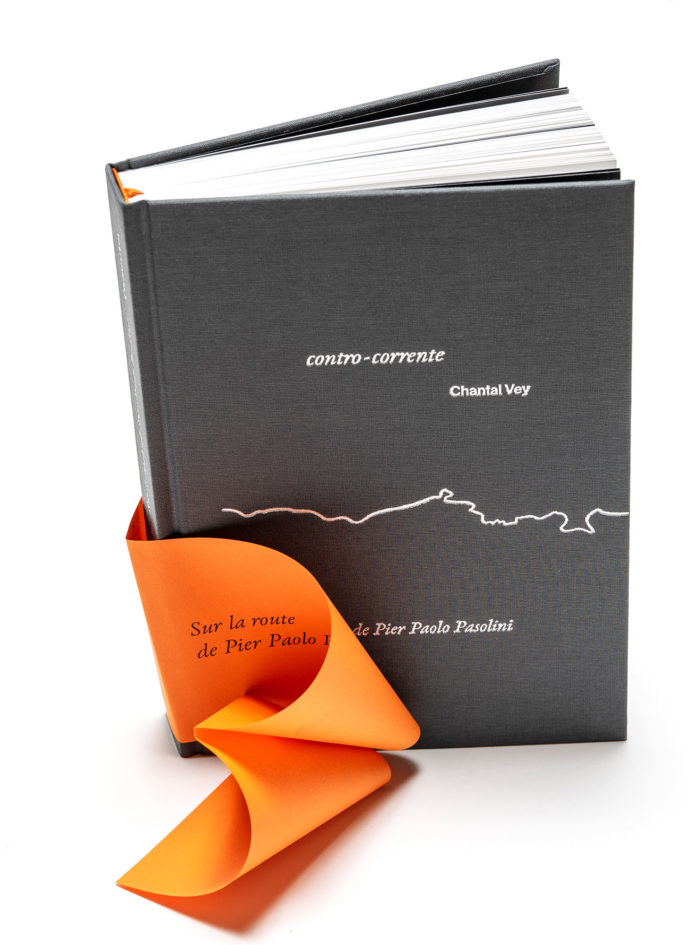 (with the sup­port of Fédé­ra­tion Wal­lo­nie Bruxelles, Jan Michals­ki Foun­da­tion, Châ­teau Coquelle, FRAC Grand-Large-Hauts de France and Espace Ecu­reuil Foun­da­tion for Contem­po­ray Art. Pho­to : © Loco editions)
---
BOGHOSSIAN FOUNDATION_Limi­ted Edi­tion Art Fair_
Brus­sels : 11 – 13/02/2022 Februa­ry 11am to 7 pm
HOLZ#4, expe­ri­men­tal maga­zine in xylo­gra­vure on japa­nese paper RK 10gr, 60,4x49,6 cm :
with Roby Com­blain, Oli­vier Des­prez, Per­rine Estienne, Caro­line Lamarche & Chan­tal Vey
For more infor­ma­tions click here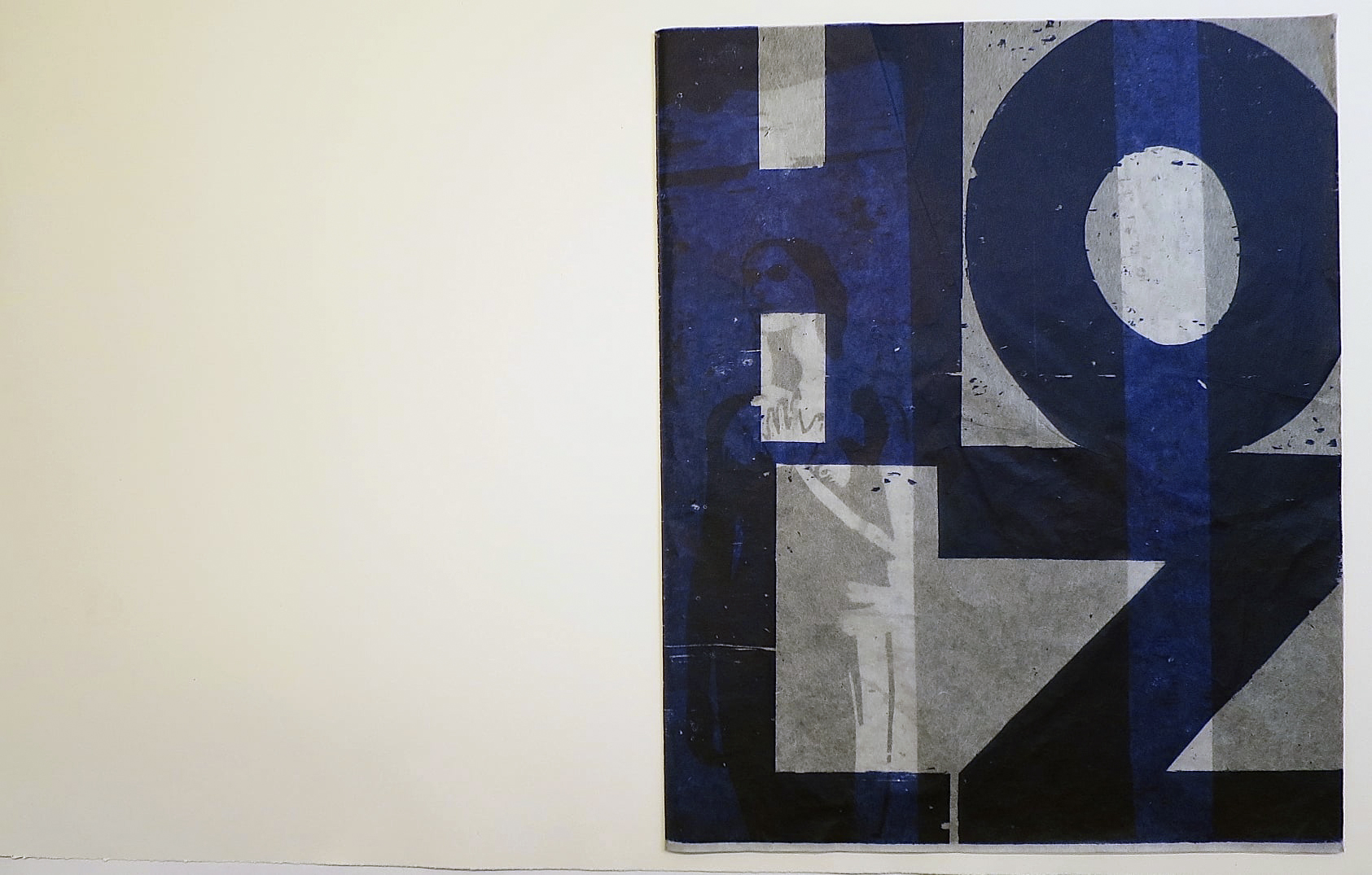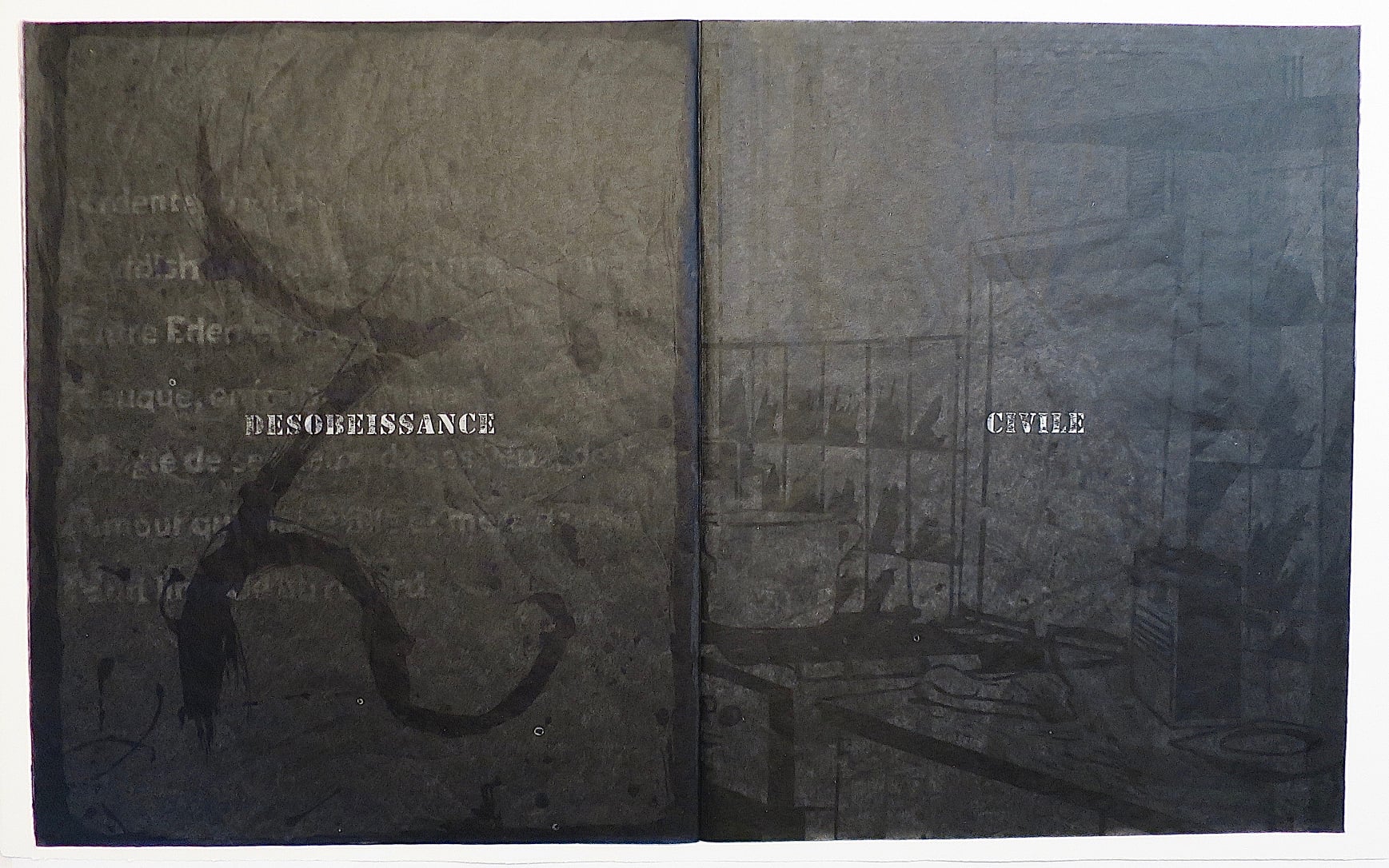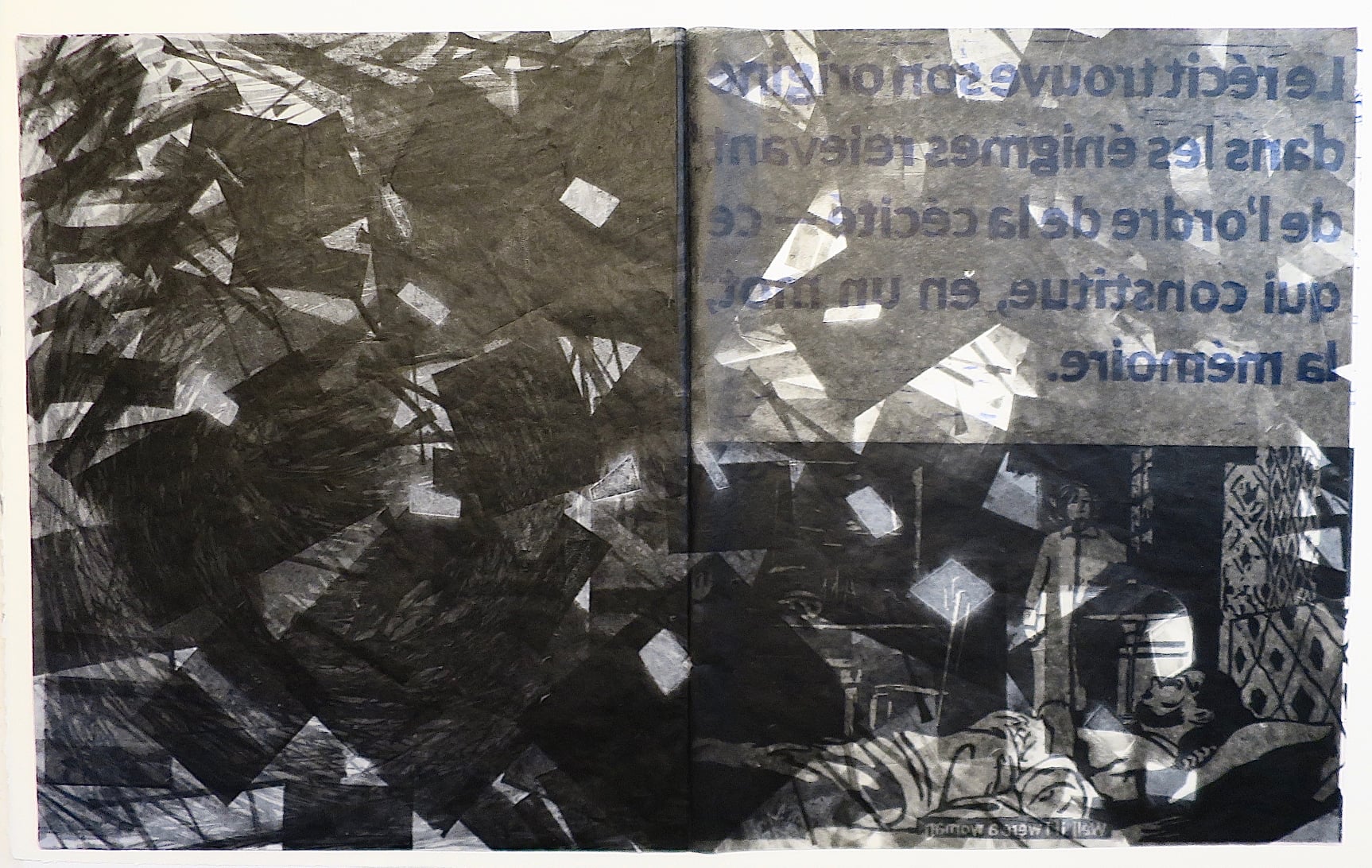 ---
PUBLICATION © LAURENT COURTENS_Rives nôtres_
L'ART MÊME n°86_Brussels_2021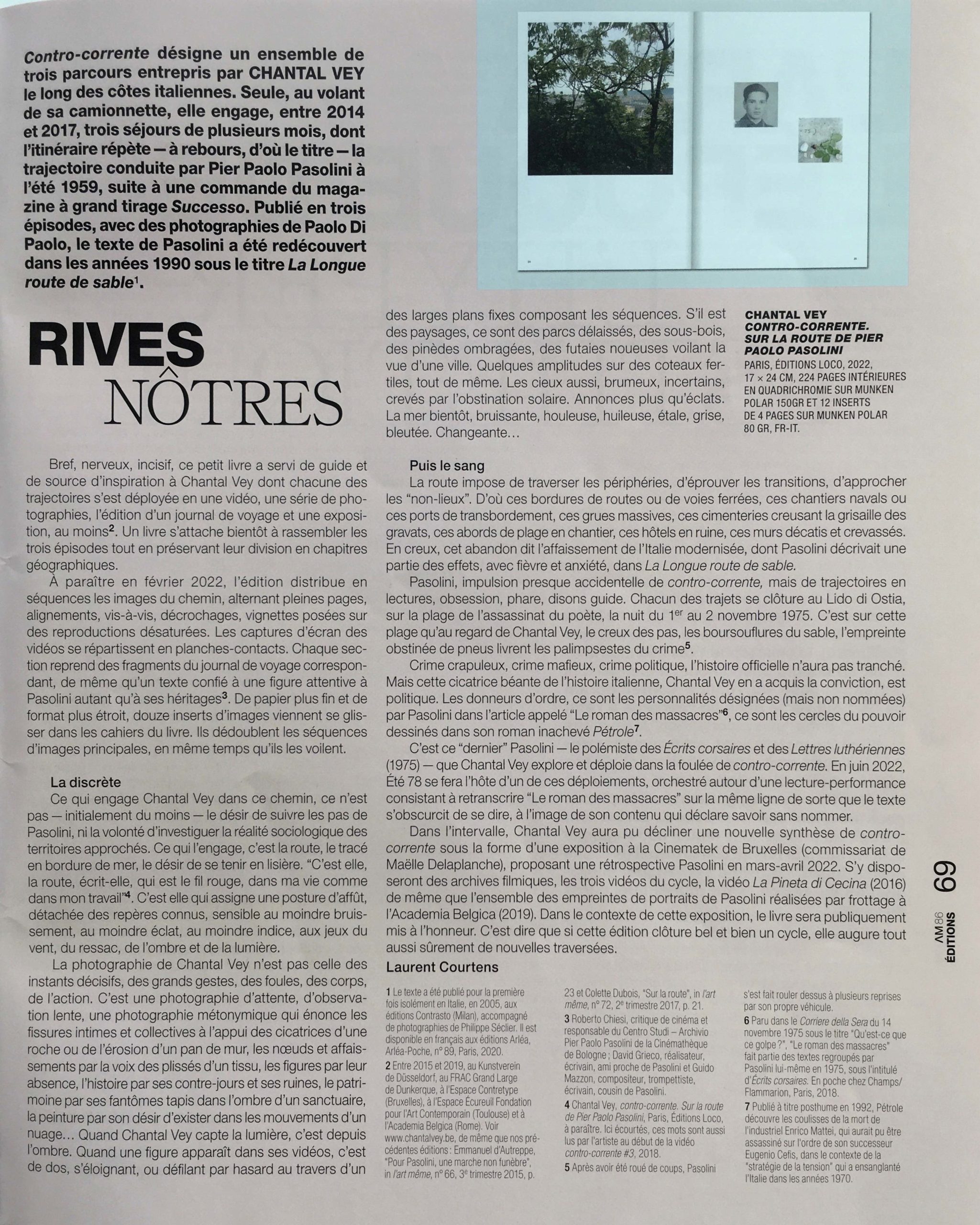 ---
PUBLICATION_20 ans d'ex­po­si­tions_Galerie des jours de Lune_Metz_2021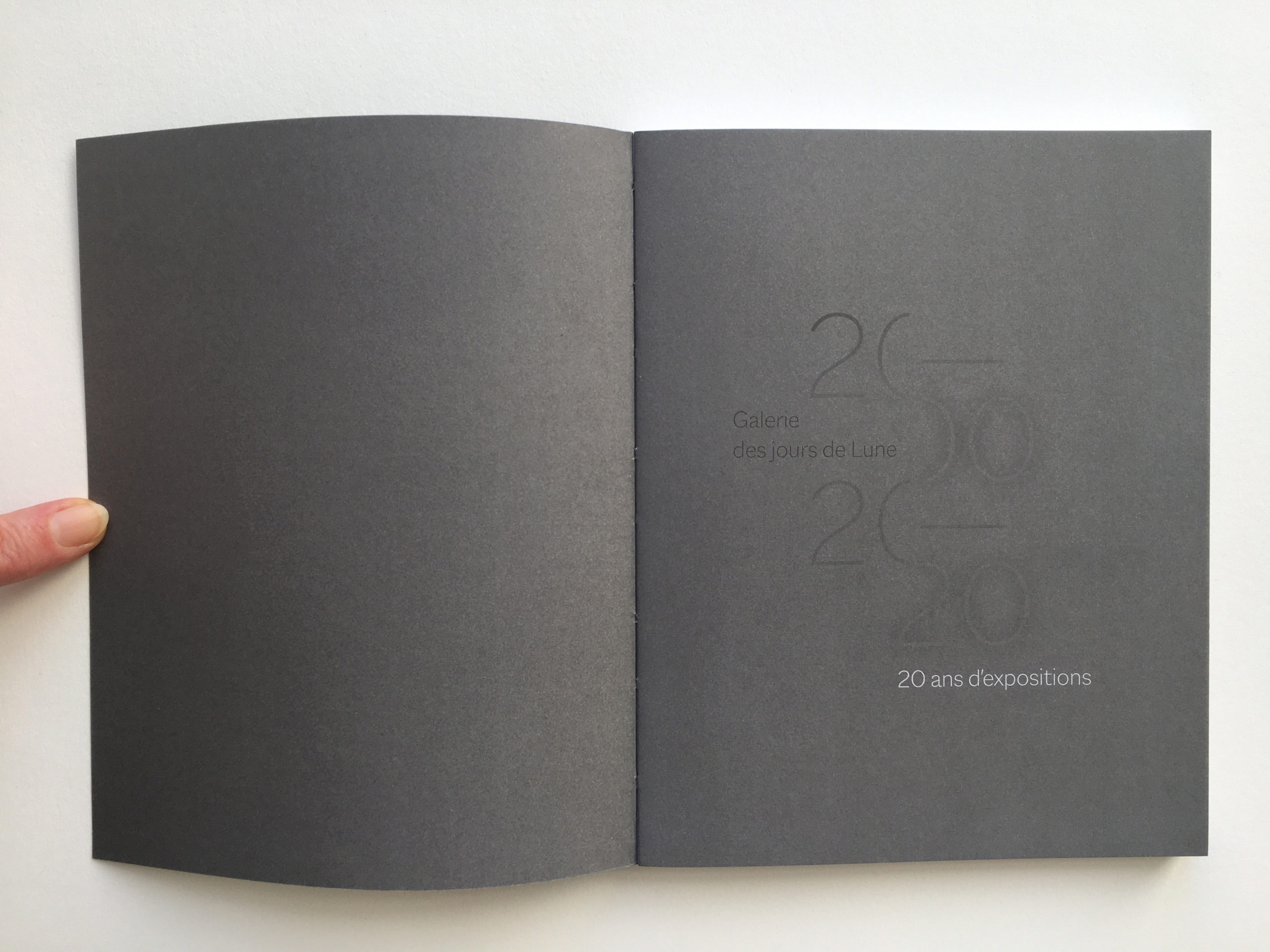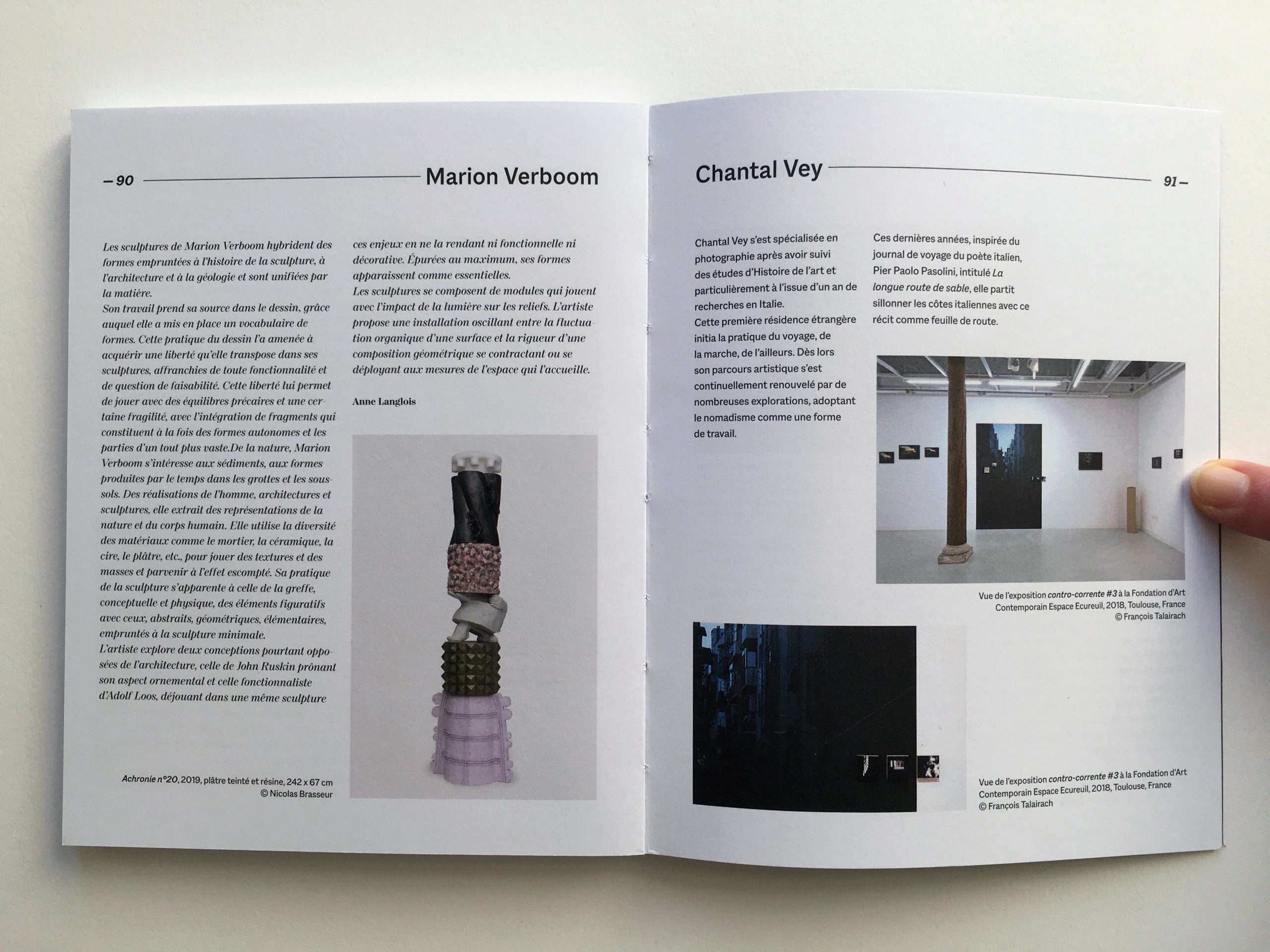 ---
Marches explo­ra­toires_ ADC/Pavillon de la danse contem­po­raine + Chan­tier Ouvert_Genève
sa 7.11.2020, sa 6.02.2021 & sa 13.03.2021 at 3 pm and 6 pm
For more infor­ma­tions click here
desi­gn — oficio.ch / © Chan­tal Vey, Palimp­seste Topo­lo­gique #4, cc3, 2018
---
PUBLICATION_Equi­noxes_Collective book of poems_Edition Ishtar_Brussels_2020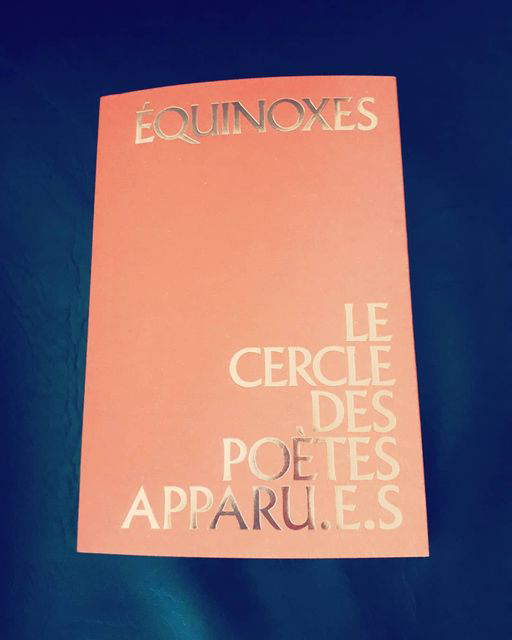 ---
NEW ESSAI ON LINE @ NATASHA CHRISTIA :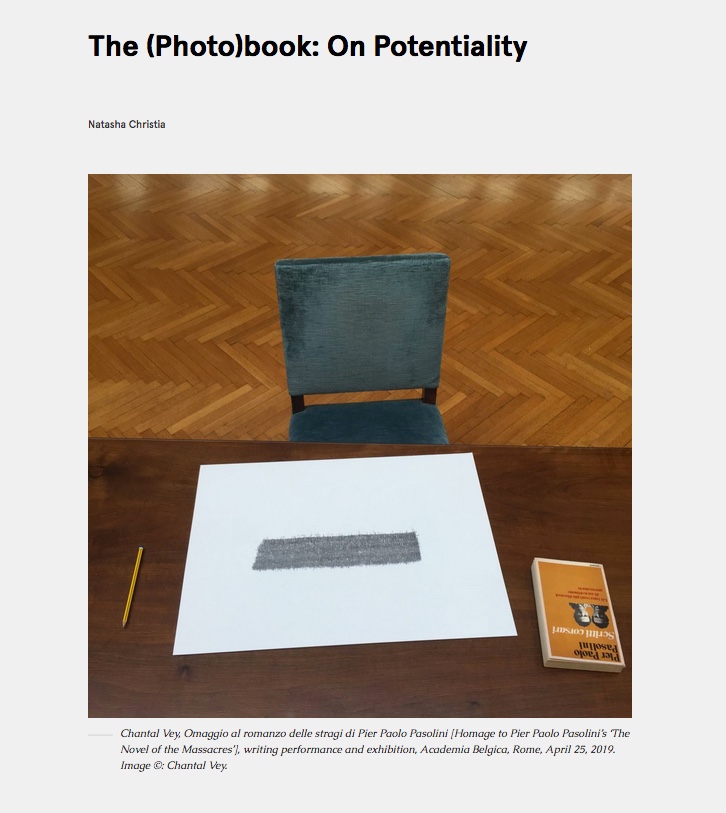 ---
LE SALON REÇOIT_Toulouse_"Presque déconfinés":
22/05/2020_6 to 10 pm
Exhi­bi­tion on line
An invi­ta­tion by Thé­rèse Pitt & Phi­lippe Pitet
With Thé­rèse Pitt, Phi­lippe Pitet, Michel Batlle, George Benai­ly, Kari­na Ben­zia­da, Gaël Bon­ne­fon, Denise Bres­cia­ni, Yvonne Cal­sou, Cyril Clé­ment, Mar­lène Côte­lette Colotte, Anne Del­rez, Phi­lippe Dol­lo, Valé­rie Du Ché­né, Jérôme Dupey­rat, Anouck Durand-Gas­se­lin, Sophia El Mokh­tar, Jen­ni­fer Espa­gna, Lau­ra Freeth, Corinne Four­cade, Isa­belle Four­cade, Michel Four­cade, Marie-Fré­dé­rique MF Hal­lin, Nico­las Gout, Matil­da Hol­lo­way, Pas­cale Herpe, Chad Keve­ny, Cécile Laporte, Marc Le Dizet, Étienne Les­cure, Benoît de La Gla­cière Lui­sière, Lori Mar­sa­la, Julie Mar­tin, Sophie Mar­ty Edward, Fran­çoise Mai­son­grande, Édith Mer­cier, André Mérian, Cerette Meyer, Jean-Claude Mil­lot, Océane Mous­sé, Nata­ly Nato, Fan­ny Pala­ro, Iri­na Pen­te­cou­teau, Marianne Plo, Manuel Pomar, Serge Pro­vost, Laurent Redoules, Mat­thieu San­chez, Julien Tar­dieu, Estelle Ver­nay, Chan­tal Vey, Ser­gueï Wolkonsky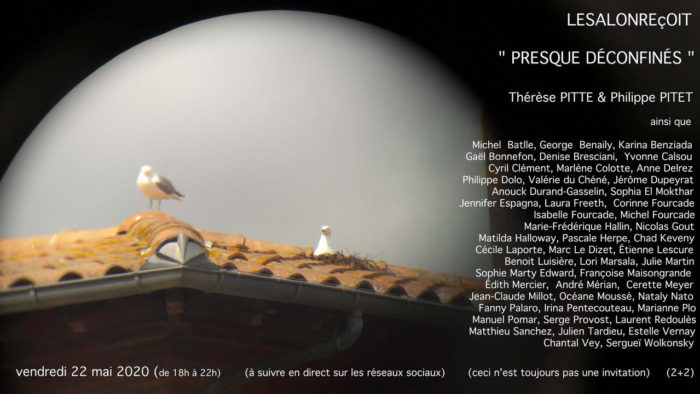 ---
FONDATION THALIE_Brussels_Équinoxe(s) – live poe­tic plat­form : 02/04/2020_8.30 pm
Poe­try is our wind rose, it offers us strength, ver­ti­ca­li­ty and resis­tance to over­come toge­ther and each one with us this qua­ran­tine to avoid the Coro­na­vi­rus spreading.
After the suc­cess of the two poe­tic ses­sions "Equi­nox" in March, the Foun­da­tion which sup­ports art and culture total­ly essen­tial to life, to vibrate, laugh and dream in the face of this dif­fi­cult moment, offers a new poe­tic ses­sion on Thurs­day 2 April at 8.30 pm.
Cura­tor : Pas­cale Barret
Rea­ders (list in pro­gress): San­dra de Vivies, Ninar Esber, Chris­tine Gui­nard, Natha­lie Guiot, Chris­tophe Fiat, Chan­tal Vey, Marie Hazard, Anna­belle Hyvrier Min­go­rance, Rachel Labas­tie, Jérôme Pog­gi, Bar­ba­ra Pol­la, Agnès Thur­nauer, Aline Fer­nande, Rokia Bam­ba, Suzanne Wathe­let, Pas­cale Bar­ret, Joa­na Preiss, Anne Racine, Nina Lom­bar­do, Lise Coi­rier, Sofie Ver­raest, Sal­ly Bonn, Anne Penders.
https://www.fondationthalie.org/fr/podcasts/equinoxes-plateforme-poetique-du-02-avril-2020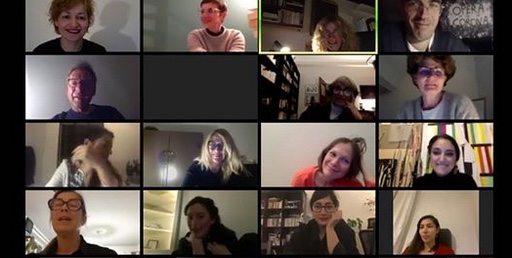 ---
ACADEMIA BELGICA_Roma_Soggiorno di ricerca :
28/02 — 06/03/2020
Fol­lo­wing the encoun­ters with Paso­li­ni's friends
ini­tia­ted during my artist residency
at the Aca­de­mia Bel­gi­ca in 2019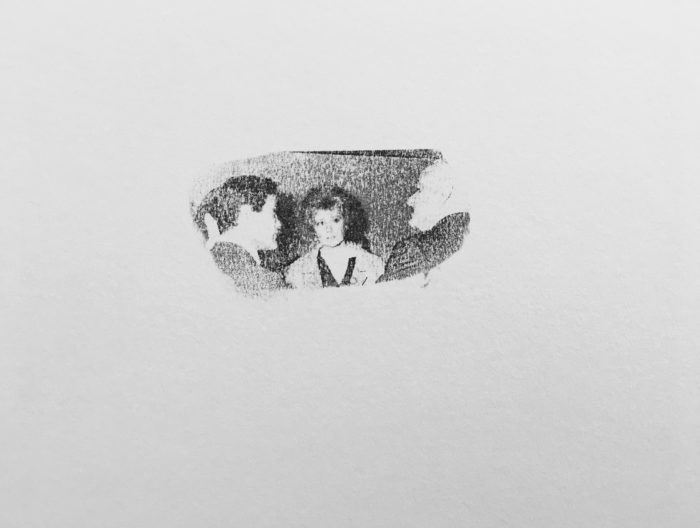 ---
ACADEMIA BELGICA_Mostra/Letture/Proiezioni : 05/06/2019_6.30 pm
via Ome­ro 8_Roma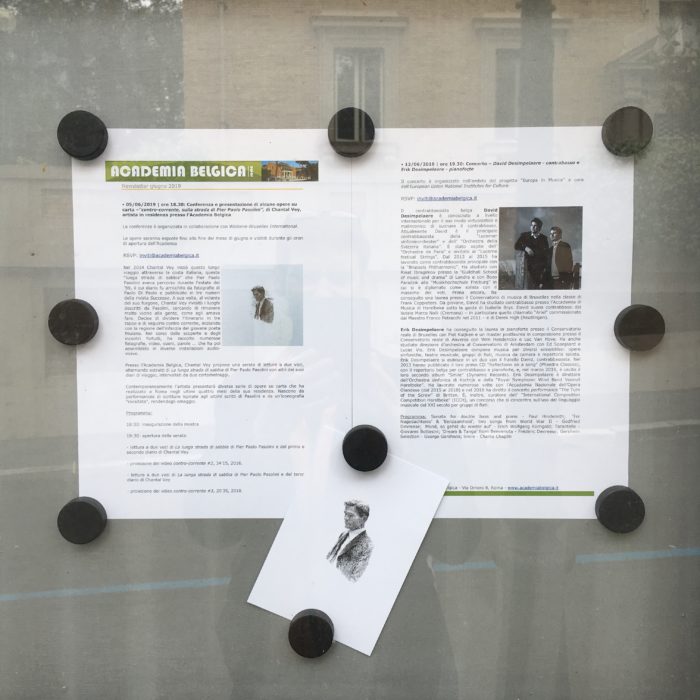 18:30 : inau­gu­ra­zione del­la mostra
19:30 : aper­tu­ra del­la serata :
 — let­tu­ra a due voci di La lun­ga stra­da di sab­bia di Pier Pao­lo Pasolini
e del pri­mo e secon­do dia­rio di Chan­tal Vey
 — proie­zione del video contro-cor­rente #2, 34'15, 2016.
 — let­tu­ra a due voci di La lun­ga stra­da di sab­bia di Pier Pao­lo Pasolini
e del ter­zo dia­rio di Chan­tal Vey
 — proie­zione del video contro-cor­rente #3, 20'35, 2018.